TRIP REPORT
A few weeks back we managed to snag some Winnipeg Jets tickets in great seats. No, not for a game in Winnipeg. That's impossible due to the brilliant marketing plan of making season tickets the hottest commodity in the city at multi-year and 85% of arena capacity making the remaining single game tickets incredibly scarce. We made the trek down to Minneapolis-St. Paul a few weeks back to watch our beloved Jets play their first game in Minnesota against the Wild.
Pulling up to the border with all Manitoba license plates? Standard.
Stopping at a Fargo, North Dakota convenience store and seeing literally 5 people with Jets gear on? Interesting. I spend 5 minutes staring at the confections stand trying to figure out what's what with all the different packaging of the same products. I settle for the discontinued in Canada Cherry Coke and a never before eaten PayDay bar. Delicious.
Driving south-east through Minnesota and seeing increasing numbers of Manitoba license plates? Not just any license plates either. Swarms of public insurance legal issue Jets license plates and Jets window flags the closer we get to Minneapolis? Fantastic!
After we dropped our luggage off at the hotel we made a quick trip over the Mississippi to downtown St. Paul and the Xcel Energy Center. I did a walkthrough of the area on Google Street View while at the hotel and found a ton of parking across the street. Apparently it was crazy expensive so I'm pretty happy that we chose to heed the advice of a friendly Minnesotan who told us to pull in at the event parking being offered by businesses with empty parking lots 3 blocks away. $10 for Dairy Queen parking was definitely a good deal based on the increasing amounts being charged the closer we walked to the Xcel Center.
After wandering around an hour before game time walking into and out of eight or nine pubs and Italian bakeries and random "Go Jets Go" chants with literally 150 people in line for some wonderful smelling bruschetta we decided to grab something at the game and go for supper afterwards.
Absolutely beautiful building. Tons of room to walk around inside and a perfect balance of different foods repeating at decent intervals around the arena. Want a baked potato while watching a hockey game instead of the same old hotdogs and chips? No problem.
The blue jerseys were everywhere. I've never high-fived that many complete strangers in my life.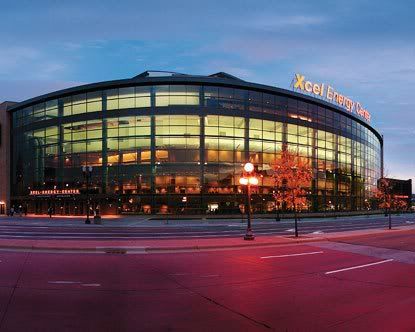 The official tally on the night was a sell out 19,060 people packed in to watch a barn burner of a game. For reference, when the NHL All-Star game was in Minnesota in 2004, they managed to cram 19,434 into the arena. The next day, local Minnesota papers acknowledged but severely downplayed the number of Winnipegers invading the city to a couple thousand. Based on my observation of the inside of the arena I would peg it around 7000.
Which means we can officially dispel the notion that we are -- by far -- the loudest fans in the league due to only having one of the smallest, acoustically best arenas in the MTS Centre. As you can hear in this video, we are very clearly able to taunt Wild goalie Backstrom in his own house at 1:00, which continued throughout the game. Until Wild fans really got ramped up in the third period, Go Jets Go, GST (Glass, Slater, Thorburn) and Baaaackstrom were by far the louder chants and drowning out the odd Lets Go Wild. Go ahead and compare the volume between our 7000 and their 12,000, or as the Minni papers would have you believe, their 16,000+ to our 3000- during goals.
And in this video of the national anthems where we emphasize "The TRUE NORTH strong and free" in tribute to the owner of the Jets, True North Sports at 0:30:
We got the most hockey possible out of the game with regulation ending in a 3-3 tie, overtime resolving nothing, and Winnipeg winning in a Sudden Death shootout after the first three shooters per side matched each other.
Make sure to check out 3:15 where Danny Heatley's attempt doesn't do justice to facepalm.jpg =)
It is now official. 1 Jets fan = 2 to 3 fans from anywhere else. How else do you explain a team with a 17-17-7 home record in a city that only got up in arms when offside was called and they didn't know what was happening going to 21-10-4 at home so far and on pace for 25-12-4 after relocating to somewhere that actually has snow? Granted they are doing terrible on the road right now but I think I'm allowed to blame that on them still playing an away schedule as if they are still in Atlanta and on the road as far away as possible a ton. Neverthless we are on playoff pace as of the time of this post!
A few quotes from the people of the well deserved title "State of Hockey" after the game:
"I hope the re-alignment goes through [putting Winnipeg and Minnesota in the same division and having them play up to 6 times per year rather than twice]. You guys are awesome!"
Visiting with the usher for our section: "This arena has never been this loud. Ever."
Joining the throng of 19k people exiting the arena, shuffling beside a couple wearing Wild jerseys: "Are we in Winnipeg?"
To cap it off there were 75+ Blue jerseys at the front entrance a good half hour after the game singing Steam's Nah Nah Nah Hey Hey Goodbye in good fun with a bunch of Green jerseys taking pictures of them. Every pub down the street was packed like sardines to the windows with mostly Blue but a fair number of Green intermingling as well. Reports of soccer style jersey exchanges in the pubs surfaced over the next few days.
This could definitely turn into a great rivalry if we eventually get the re-alignment through, but it was more of an all-around celebration for both sides that night. We both lost our teams in the mid 90s, ours to Phoenix and theirs to Dallas and it's nice to see that two cities with the most rabid yet friendly hockey fans finally both have their teams back.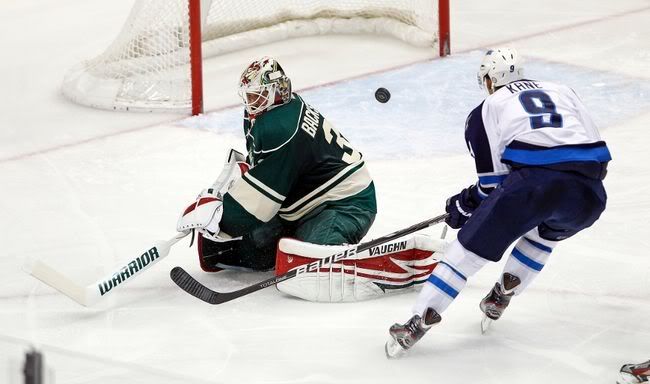 Thoughts of Interest (mostly food related, because what else do you do in Minneapolis?)
If I lived south of the border, between all of the Super Target stores, TGI Fridays, IHOP, and Ruby Tuesday, I would be broke and fat. They take their food very seriously down there as evidenced by the unending wave of interstate highway fast food signs. Here in Canada we tell you where the hospitals, airports and museums are. In the States they tell you where the next two McDonald's are. My wife had her very first McDonald's breakfast ever on the trip home and said "Wow that's actually not as terrible as I thought it would be." I literally said do not try this at home. I didn't have one bad meal anywhere. It's probably 50/50 or worse at home.
I later walked into KFC to pick up something for the rest of the drive and asked for a Spicy Big Crunch. "You want a what?" I thought the entire point of KFC was Spicy Big Crunch chicken burgers. But no, they just offer you an entire Thanksgiving dinner buffet instead.
$8+ per drink is standard. Shocker. $5 happy hours. I guess they don't want everyone drinking like a fish like they do at home.
We tried out a fancy new restaurant in the Mall of America called Crave. I ordered a ceaser salad starter. What I got was a whole, grilled romaine heart, still intact, with dressing in a pool on one side, croutons on the other. At first I thought wtf, and then I tried it. I didn't know you could get that barbeque hamburger flavour into a ceaser salad. Good stuff
Props to Antonio from IHOP across from MoA! We got there at 7am and he was super excited to see us. He must have been up for hours. I've never seen anyone that happy, that early in the morning.
I tried to order gravy for my fries at TGI Fridays -- true story:
TGI: "We don't have gravy."
Me: "Seriously?"
TGI: "You mean like, Disco Fries?"
Me: "Disco Fries?"
TGI: "Yeah, you know, fries covered in all that gravy and cheese."
Me: "Oh you mean poutine! That's what it's called in Canada. We invented it."
TGI: "Yeah something like that. I think Canada copyrighted the name poutine though, so we can't use that name in restaurants here in the United States."
Me: "... [poker face]"
TGI: "Don't worry. I got you covered."
I receive a side of Jack Daniels sauce and said close enough.
LuluLemon cashier guy told us to get on the light rail and take it to the far end downtown, get off, and follow the people to find some really cool places. That theory fails at 10am and we wandered downtown Minneapolis feeling like tools wandering in and out of what are probably $500+ per night hotels with old school doormen before finding an upscale place for breakfast. A friend did confirm when we got home that LuluLemon guy's theory is correct, so we'll try again later in the day next time.
Overall a great trip. Great game. Great food. Will go again.